Ulaanbaatar Airport in Mongolia:
Named after Genghis Khan!
Like most airports in Asia, Mongolia's Ulaanbaatar airport has improved greatly in the past 20 years. On December 21, 2005 this airport was renamed "Chinggis Khaan" airport in honour of the 800th anniversary of Genghis Khan's official enthronement as emperor of Mongolia. ("Chinggis Khaan" is the official Mongolian way to spell his name.)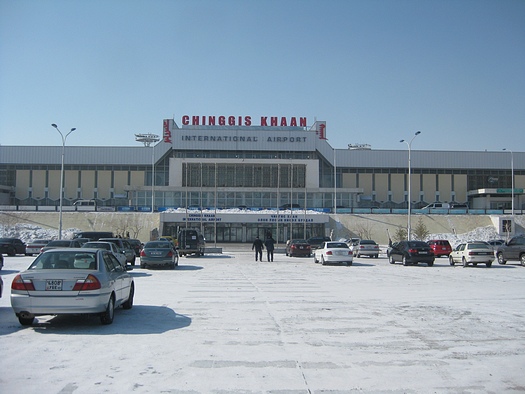 As mentioned on the Genghis Khan webpage on this site, he is admired by all Mongolians, many of whom claim direct descent from him! It's no wonder that he is honoured in many ways in Mongolia, but I wonder what he would have thought of a place for flying machines being named after him.

Above is the airport after 2005. Below is the other side of the building as it appeared in 2002 when I visited.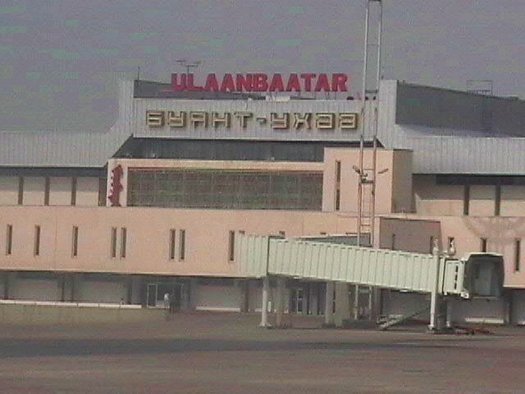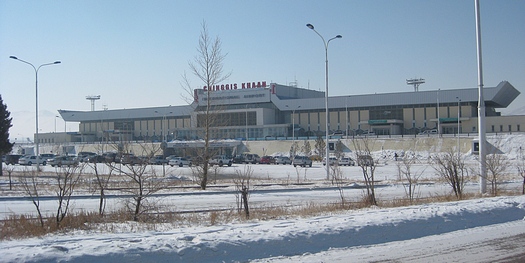 As you can see, the airport is not large. Asia has many huge airports with hundreds of flights per day; the Ulaanbaatar airport is definitely not one of those.

Despite its relatively small size, Genghis Khan airport has many of the modern things you'd expect in an airport. Here, for example, you can see a metal detector for airport security.
And of course there is an airport information center. One piece of airport information that I learned when I visited Mongolia in 2003 involved the need for visas when visiting Mongolia. Don't count on this as currently accurate information since regulations change, but when I went to Ulaanbaatar it was easier for Americans to visit than Canadians. As a Canadian I had to get a visa from the Mongolian Embassy in Beijing before I went. Americans, however, could get a tourist visa on arrival with no prior notice.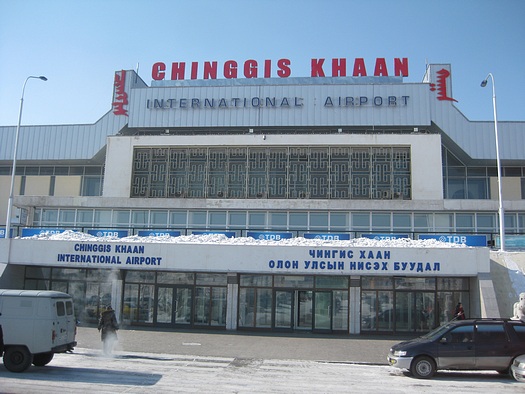 Here is the main entrance to the airport. Notice that the lettering is in English, Cyrillic, and old Mongolian script. More about the Mongolian script is explained below. The Russian Cyrillic shows the continuing influence of the long Russian influence in Mongolia. In 1921 Mongolia became independent of China with the help of the USSR, though many Mongol people still live in China's Inner Mongolia province.
From 1921 to 1990 the Soviet Union had a controlling hand in Mongolian affairs. The ascension of communism in China didn't bring security to Mongolia since there was a considerable amount of tension between China and the USSR which didn't ease until the 1980s. As a result, there was a large Soviet influence and at one point the USSR assistance made up one third of Mongolia's gross domestic product.

When the USSR ended, assistance to Mongolia dried up almost immediately and it was left to fend for itself. Part of the Soviet legacy left in Mongolia is the Cyrillic language seen all over.
As the largest Mongolia aiport, this is the main entry/exit point for international visitors. There are 46 airports (and one heliport) in Mongolia, but only 14 have paved runways.

Since the early 2000s, the Mongolian government has been trying to develop tourism's role in the Mongolian economy. In 2002, 167,000 tourists visited Mongolia. In 2008, the total was 452,000. If that number seems small, keep in mind that it is one seventh of the national population. To help tourists, the facilities for international travelers at this airport are well-marked and reasonably convenient.
But the Ulaanbaatar airport is also the hub for domestic flights in Mongolia. Since the whole country has just 3 million people, and (according to CIA factbook as of 2004) 36% of Mongolians live below the poverty line, you can guess that there is not a whole lot of domestic air traffic to handle.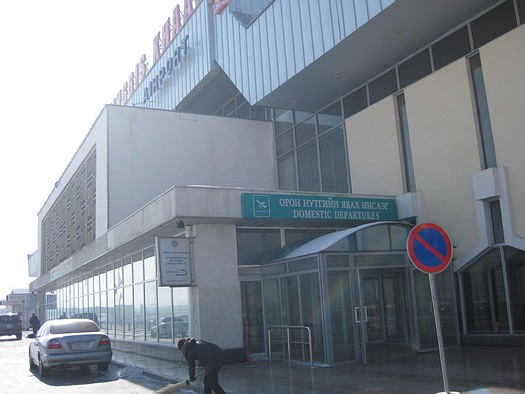 I like this (public domain) photo. In front of the modern Ulaanbaatar airport we see a cleaner clearing snow with an old whisk broom.

Here we also see old and new. Bracketing the English on the airport sign are two examples of old Mongolian script. Genghis Khan (or "Chinggis Khaan" as the Mongolians spell his name) actually had a hand in that - one of his early acts as he was gaining control in Mongolia was to command in 1204 that a written version of the Mongolian language be established.
The part on the left says "Chingas" and the part on the right says "Khagan". Both parts reflect older spelling. According to my friend Tim who lives in Mongolia, "It used to be that when there were 2 vowels in a row, there was always a "g" put in between. That got dropped somewhere along the line."
This ends this set of public domain photographs of the Ulaanbaatar airport. I hope you get a chance to visit Mongolia, and if you do, you'll undoubtedly see Genghis Khan airport for yourself.