In Mongolia pictures we see the land of Genghis Khan...
with a few changes
The most famous Mongolian has got to be Genghis Khan. Looking at modern Mongolia pictures makes me wonder what these places and people looked like in his day, and what he would think of his land now. The picture sets you see here show Mongolia in the 21st Century.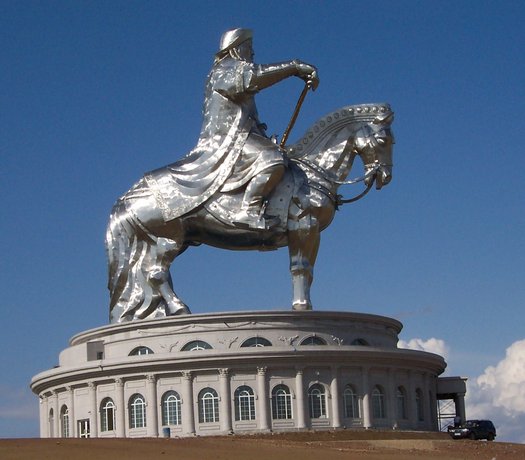 Here you see a new memorial for him in the capital city of Mongolia. Despite (or perhaps because of) their small population compared to their giant neighbours China and Russia, the Mongolian people have great pride in their culture and the focus of that is in Genghis Khan. Click here for information about Mongolia's greatest hero.
Pictures of Mongolia show a place quite different from what I'm used to where I live in China. I've never visited "Inner Mongolia" in China but I have been to Mongolia (a.k.a. "Outer Mongolia"). The pictures you see here are from my Western friends who work there now or used to, plus a couple of my own from 2002. The impressions and comments are both theirs and mine.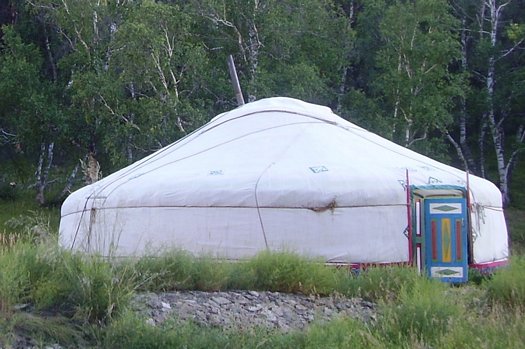 Many people have heard of the Mongolian tent homes called "gers" or "yurts". They are still a common sight in Mongolia pictures, and are found even in cities beside modern buildings. To find out some more about them, have a look at www.mongolyurt.com. It is common for tourist places to have yurts for rent like hotel rooms.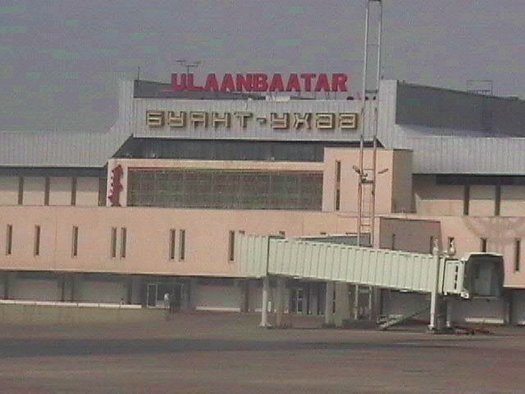 Mongolia is not a big place in terms of people. The population is estimated to have been just 2.9 million in 2007. That's hardly a medium-size city in China! Half the people of Mongolia live in the capital city of Mongolia, Ulaanbaatar. This picture above shows the largest Mongolia airport as it was in 2002.

In 2005 this airport was renamed in honour of Genghis Khaan. Click here or on the picture above to see more public domain pictures of this Mongolia airport.

Although in 2002, UB struck me as fairly modern compared to where I lived in China (e.g. cable TV with Discovery Channel, restaurants with Western food including some good Italian food!) the architecture didn't impress me much. Those living in Mongolia say that when the Russians left, they left behind two things: alcoholism and ugly concrete block buildings in UB.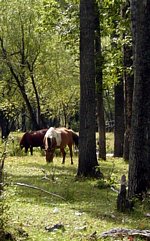 The outer provinces, called "aimags", are pretty primitive and you'd see many gers there. Genghis would probably still fit in well in the rugged countryside you see in Mongolia pictures. The natural scenery is marvelous and the common people there still use horses a lot. My friends in Mongolia seem to like taking horse pictures so I've included a whole page of Mongolian horse photos!
By the way, Mongolia is the only place I know where you can go to the corner store and pick up a litre of fermented mare's milk. I can best describe it as an acquired taste that I have not acquired.
Traveling from Ulaanbaatar to "UB2", a hotel/retreat centre not too far away, I saw horses, sheep, and yaks out the window, then saw something I didn't expect: camels! (Sorry about the fuzzy through-the-window photo.) It makes sense when you think about it... a fair chunk of the country is covered by the Gobi Desert. Some pictures of Mongolian desert are in this photo collection of Mongolian scenery.
At the time I visited Mongolia, I was living in Tibet and the similarities of some aspects of culture and religion were interesting. For example, both places have many followers of Tibetan Buddhism who put up prayer flags to try to gain merit, but in Tibet the flags are multicolour while in Mongolia almost all of the flags are blue. I never discovered a reason for the colour choices, but it's a reliable way to tell the difference between Mongolia pictures and Tibet pictures.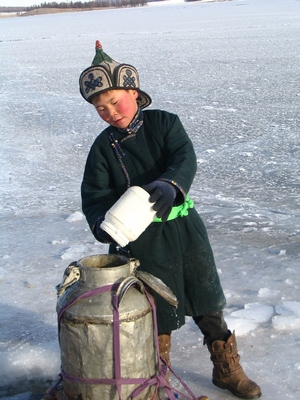 In terms of traditional clothing, it can be hard to tell Tibetans from Mongolians. Traditional Mongolian clothes are warm robes called deels.
Click here to see Mongolian clothing.
Click here to see Mongolian clothes for men.
Did you know there's a connection between traditional Mongolian clothing and Star Wars? Queen Amidala's outfits were minor variations on the more ornate traditional Mongolian women's fashions. Click here to see Mongolian clothes for women.

The Mongolia pictures here will give you a taste of the country, but if you want tourist information for making Mongolia travel plans, you should check out the Mongolian government official tourism website. (Of course, Mongolia travel agencies are also good sources of information!)